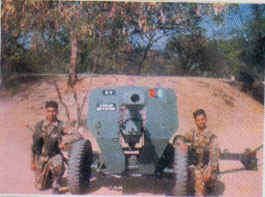 ALUMNI
Shaheed Asstt. Commdt. AZAD SINGH DALAL
Shaheed Asstt. Commdtt. Azad Singh Dalal was an N.C.C. Cadet of KIRORIMAL COLLEGE during 1991- 1994.He joined BSF in 1996 and was posted with 141 Bn. BSF.He was posthumously awarded PRESIDENT POLICE MEDAL for displaying conspicuous gallantry, courage and devotion to duty of the high order.
STATEMENT OF SERVICE FOR WHICH THE DECORATION HAS BEEN AWARDED
On 13th June 1999 at about 1800 hrs. on an information that a group of 4-5 militants was sheltering in village Khlumulla, Nagbal, two Coy of BSF cordoned the village around 1845 hrs. The village has a cluster of about 250 to 300 houses. The militants noting the arrivals of the BSF troops started firing on the outer cordon, injuring two Constables. Thereupon BSF troops asked the civilians to vacate the houses through announcement on loud speaker. The militants were asked to surrender but they continued firing on the cordon party. Shri Azad Singh Dalal, AC sent troops in two bunder vehicles for retaliatory and also to tighter the cordon. Intermittent exchange of fire continued throughout the night and during this period two more Constables who was among one of them, lost his right arm as a result of the operation. Meanwhile, CO & Dy.CO arrived on the spot & look over control of the operation. In the night, one of the militants managd to slip out through a rear door of the house and rushed to a tree so as to escape from the cordon. Constable Devalasa who was positioned behind a tree spottted the militant and fired at him. Shri Devalasa and the militant were injured in the cross firing & succumed to their injuries. Another militant alsi tried to slip out of the cordon. Shri Azad on seeing him, fired at him. The militant also fired back on Shri Azad. Shri Azad and the militant got injured & succumed to their injuries. The killed militants were identified as Akram @ Akram Bhai r/o Karachi(Pakistan) & Hurra Code Fajal, guide of AL Bader outfit Ganderbal. two AK Rifles, two Rifles Grenades & ammunition were recovered from the spot.
In the encounter, (Late) S/Shri Azad Singh Dalal, AC, (Late) Devalasa, Constable & Shri Ram Saran, HC, 141 Bn. BSF displayed conspicuous gallantry, courage & devotion to duty of the high order.
These awards are made for gallantry under Rule 4( i ) of the rule governing the award of Police Medal and consequently carries with it the special allowances admissible under Rule 5, with effect from 13th June,1999.
(published in part I section I of the Gazette of India dated 7th October,2001)
"The smell of flowers goes only with the wind, but the fame of good men goes even against the wind." (SRI BUDDHA)